Lay-In Wireway
NEMA 1
Application
Construction designed to ensure electrical continuity and to permit fast and easy indoor installation of multiple wireway runs.

Standards
UL-50 Type 1
cUL Type 1
Complies with
Construction
Formed from 16 or 14 gauge steel.
Straight sections, Fittings and Joiners make it possible
to lay in continuous run of cables.
CWST Series are hinged on 24" centers (max)
Concentric knockouts (1/2", 3/4" conduit size) are standard on straight lengths where noted.
Knockouts (when provided) are on 12" centers.
Screw cover sections do not have knockouts.
Barriers to separate different cable voltages are available
as an accessory.
Unobstructed interior speeds up laying of cables.
Joiner included with the straight sections.
Optional hanger brackets allow for vertical and horizontal
mounting.

Finish
Sections and components are finished in ANSI 61 gray.
Couplings are unpainted galvanized.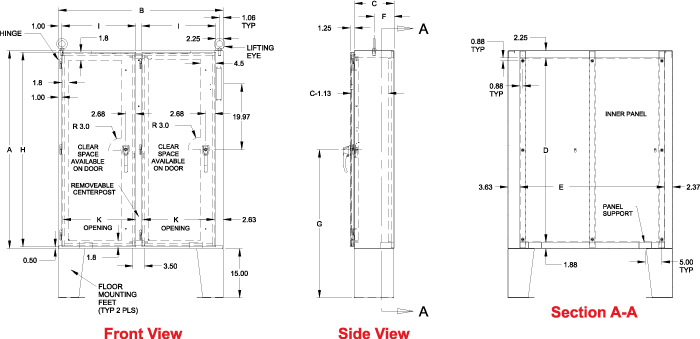 Screw Cover

2.5 x 2.5

4 x 4

6 x 6

8 x 8

10 x 10

12 x 12

Straight Section 12"
Straight Section 18"

-

-

-

Straight Section 24"
Straight Section 36"
Straight Section 48"
Straight Section 60"
Straight Section 72"

-

-

Straight Section 120"
Hinged Cover

2.5 x 2.5

4 x 4

6 x 6

8 x 8

10 x 10

12 x 12

Straight Section 12"
Straight Section 18"

-

-

Straight Section 24"
Straight Section 36"
Straight Section 48"
Straight Section 60"
Straight Section 72"
Straight Section 96"
Straight Section 120"
Accessories

2.5 x 2.5

4 x 4

6 x 6

8 x 8

10 x 10

12 x 12

Straight Section Barrier 12"
Straight Section Barrier 18"

-

-

-

Straight Section Barrier 24"
Straight Section Barrier 36"
Straight Section Barrier 48"
Straight Section Barrier 60"
Straight Section Barrier 72"
Straight Section Barrier 96"
Straight Section Barrier 120"
Elbow 90 degrees
Elbow 45 degrees
Elbow 22.5 degrees

CWEL1022

CWEL1222

Tee Fitting

CWFT12

Cross Fitting
Reducer 4 x 4 to 2.5 x 2.5

-

-

-

-

-

Reducer 6 x 6 to 4 x 4

-

-

-

-

Reducer 8 x 8 to 6 x 6

-

-

-

-

-

Reducer 10 x 10 to 8 x 8

-

-

-

-

-

Reducer 12 x 12 to 8 x 8

-

-

-

-

-

Reducer 12 x 12 to 10 x 10

-

-

-

-

-

Bracket Hanger Ceiling Type
Bracket Hanger Wall Type
Closing Plate
Adapter (Box Connector)
Joiner
Telescope Fitting