Modular Freestanding Enclosures - NEMA 12
HME Series Single Door Enclosure
Application
The HME product line provides users with a rugged housing for industrial control and operator interface in industrial environments.
Modular design permits joining of units together for large scale and mixed use applications.
Frame's 25mm hole pattern provides extensive component and accessory mounting flexibility.
A broad range of industry standard sizes are offered.

Standards
UL 508 Type 12
CSA Type 12
Complies with

NEMA Type 12
IEC 60529 IP54
Standard Configuration
Frame
Removable solid top panel
Lifting eyebolts (4)
Removable bottom panel w/gland plates
Solid front door with door frame
Removable rear cover panel
Inner mounting panel
Construction
Formed 14 gauge steel.
Fully welded frame with 25mm hole pattern for superior mounting flexibility.
Seamless foam in place gasket.
Reinforced eyebolts are provided for easy enclosure lifting.
Frames can be joined together with an optional joining kit.
Doors can be easily interchanged, removed and/or reversed.
Door opening 135°.
Optional formed 14 gauge steel side panels are sold separately (in pairs).
Bonding and grounding studs are provided for all doors and panels.

Finish
Phosphatized and finished in RAL 7035 light gray powder coating.
Inner panel is unpainted galvanized 12 gauge steel.
Accessories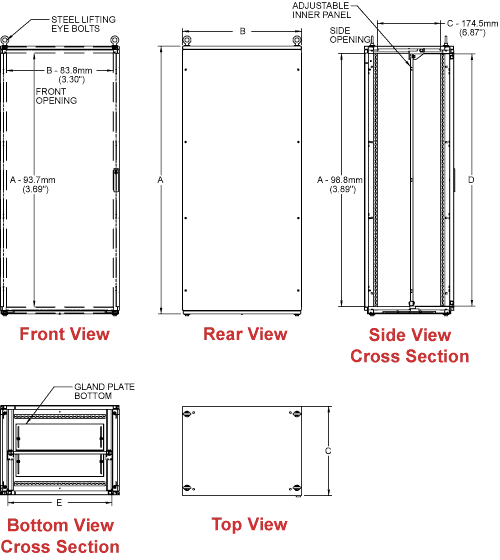 Part No.
Overall Dimensions
(in/mm)
Panel
Dimensions
A
B
C
Height
Width
HME1465
inch
55.12
23.62
19.69
51.03
19.65
mm
1400
600
500
1296
499
HME1466
inch
55.12
23.62
23.62
51.03
19.65
mm
1400
600
600
1296
499
HME1468
inch
55.12
23.62
31.5
51.03
19.65
mm
1400
600
800
1296
499
HME1485
inch
55.12
31.5
19.69
51.03
27.52
mm
1400
800
500
1296
699
HME1486
inch
55.12
31.5
23.62
51.03
27.52
mm
1400
800
600
1296
699
HME1488
inch
55.12
31.5
31.5
51.03
27.52
mm
1400
800
800
1296
699
HME1665
inch
62.99
23.62
19.69
58.9
19.65
mm
1600
600
500
1496
499
HME1666
inch
62.99
23.62
23.62
58.9
19.65
mm
1600
600
600
1496
499
HME1668
inch
62.99
23.62
31.5
58.9
19.65
mm
1600
600
800
1496
499
HME1685
inch
62.99
31.5
19.69
58.9
27.52
mm
1600
800
500
1496
699
HME1686
inch
62.99
31.5
23.62
58.9
27.52
mm
1600
800
600
1496
699
HME1688
inch
62.99
31.5
31.5
58.9
27.52
mm
1600
800
800
1496
699
HME1864
inch
70.87
23.62
15.75
66.77
19.65
mm
1800
600
400
1696
499
HME1865
inch
70.87
23.62
19.69
66.77
19.65
mm
1800
600
500
1696
499
HME1866
inch
70.87
23.62
23.62
66.77
19.65
mm
1800
600
600
1696
499
HME1868
inch
70.87
23.62
31.5
66.77
19.65
mm
1800
600
800
1696
499
HME1884
inch
70.87
31.5
15.75
66.77
27.52
mm
1800
800
400
1696
699
HME1885
inch
70.87
31.5
19.69
66.77
27.52
mm
1800
800
500
1696
699
HME1886
inch
70.87
31.5
23.62
66.77
27.52
mm
1800
800
600
1696
699
HME1888
inch
70.87
31.5
31.5
66.77
27.52
mm
1800
800
800
1696
699
HME18104
inch
70.87
39.37
15.75
66.77
35.4
mm
1800
1000
400
1696
899
HME18105
inch
70.87
39.37
19.69
66.77
35.4
mm
1800
1000
500
1696
899
HME18106
inch
70.87
39.37
23.62
66.77
35.4
mm
1800
1000
600
1696
899
HME18108
inch
70.87
39.37
31.5
66.77
35.4
mm
1800
1000
800
1696
899
HME2045
inch
78.74
15.75
19.69
74.65
11.77
mm
2000
400
500
1896
299
HME2064
inch
78.74
23.62
15.75
74.65
19.65
mm
2000
600
400
1896
499
HME2065
inch
78.74
23.62
19.69
74.65
19.65
mm
2000
600
500
1896
499
HME2066
inch
78.74
23.62
23.62
74.65
19.65
mm
2000
600
600
1896
499
HME2068
inch
78.74
23.62
31.5
74.65
19.65
mm
2000
600
800
1896
499
HME2084
inch
78.74
31.5
15.75
74.65
27.52
mm
2000
800
400
1896
699
HME2085
inch
78.74
31.5
19.69
74.65
27.52
mm
2000
800
500
1896
699
HME2086
inch
78.74
31.5
23.62
74.65
27.52
mm
2000
800
600
1896
699
HME2088
inch
78.74
31.5
31.5
74.65
27.52
mm
2000
800
800
1896
699
HME20106
inch
78.74
39.37
23.62
74.65
35.4
mm
2000
1000
600
1896
899
HME20108
inch
78.74
39.37
31.5
74.65
35.4
mm
2000
1000
800
1896
899
HME2246
inch
86.62
15.75
23.62
82.52
11.77
mm
2200
400
600
2096
299
HME2265
inch
86.62
23.62
19.69
82.52
19.65
mm
2200
600
500
2096
499
HME2266
inch
86.62
23.62
23.62
82.52
19.65
mm
2200
600
600
2096
499
HME2285
inch
86.62
31.5
19.69
82.52
27.52
mm
2200
800
500
2096
699
HME2286
inch
86.62
31.5
23.62
82.52
27.52
mm
2200
800
600
2096
699
HME2288
inch
86.62
31.5
31.5
82.52
27.52
mm
2200
800
800
2096
699
HME22105
inch
86.62
39.37
19.69
82.52
35.4
mm
2200
1000
500
2096
899
HME22106
inch
86.62
39.37
23.62
82.52
35.4
mm
2200
1000
600
2096
899