Splitter Troughs
NEMA 1
Application
The splitter boxes are designed for distribution of up to 600 V (max) service using either 3 or 4 wires.

Standards
CSA Certified
Complies with
Construction
Formed 14 and 16 gauge steel.
Smooth, continuously welded seams ground smooth.
Door stiffeners are provided where required for increased strength and rigidity - designed to also permit additional mounting options.
Formed lip on enclosure to exclude flowing liquids and contaminants.
Doors may be easily removed for modifications and are interchangeable.
Hinges are constructed from 304 stainless steel.
Hinge pins are stainless steel.
Finish
Cover and enclosure are finished in recoatable smooth ANSI 61 gray powder coating.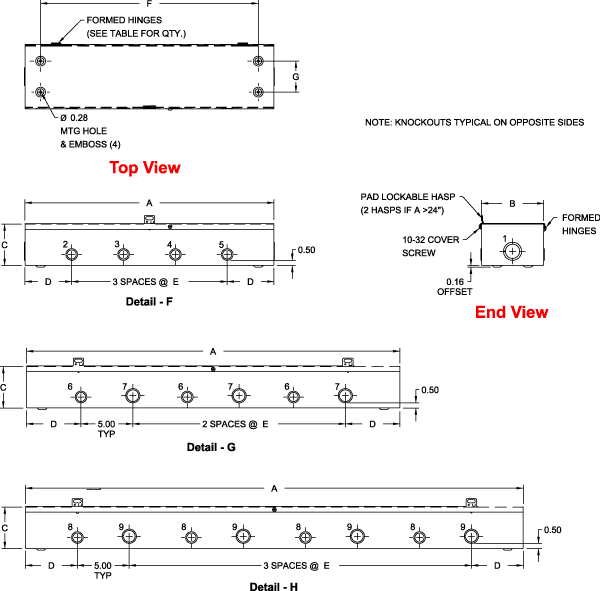 Part Number
Optional
Grounding
Kit
CU/AL
Amps
Dimensions
Conduit Size (Location)
3 Wire
4 Wire
A
B
C
D
E
F
G
Detail
1/2"-
3/4"
3/4"-
1"
1"-
1 1/4"
2"-
2 1/2"
CST273
CST274
CGK225
70/70
24
6
4
4.50
5.00
21
3
F
2,3,4,5
-
1
-
CST373
CST374
CGK225
70/70
36
6
4
7.50
7.00
33
3
F
2,3,4,5
-
1
-
CST473
CST474
CGK225
70/70
48
6
4
7.50
11.00
45
3
F
2,3,4,5
-
1
-
CST2103
CST2104
CGK225
125/120
24
6
4
4.50
5.00
21
3
F
2,3,4,5
-
1
-
CST3103
CST3104
CGK225
125/120
36
6
4
7.50
7.00
33
3
F
2,3,4,5
-
1
-
CST4103
CST4104
CGK225
125/120
48
6
4
7.50
11.00
45
3
F
2,3,4,5
-
1
-
CST6103*
CST6104*
CGK225
125/120
72
8
5
5.25
10.25
69
5
H
8
9
1
-
CST2203*
-
CGK225
225/225
24
8
5
4.50
5.00
21
5
F
2,4
3,5
-
1
CST3203*
CST3204*
CGK225
225/225
36
8
5
5.25
10.25
33
5
G
6
7
-
1
CST4203*
CST4204*
CGK225
225/225
48
8
5
5.00
11.00
45
5
H
8
9
-
1
CST5203*
CST5204*
CGK225
225/225
60
8
5
5.00
15.00
57
5
H
8
9
-
1
CST6203*
CST6204*
CGK225
225/225
72
8
5
5.00
19.00
69
5
H
8
9
-
1
CST3403*
-
CGK400
400/340
36
10
6
5.25
10.25
33
7
G
6
7
-
-
CST4403*
CST4404*
CGK400
400/340
48
10
6
5.00
11.00
45
7
H
8
9
-
-
CST5403*
CST5404*
CGK400
400/340
60
10
6
5.00
15.00
57
7
H
8
9
-
-
CST6403*
CST6404*
CGK400
400/340
72
10
6
5.00
19.00
69
7
H
8
9
-
-
CST4603*
CST4604*
CGK400
600/574
48
10
6
5.00
11.00
45
7
H
8
9
-
-
CST5603*
CST5604*
CGK400
600/574
60
10
6
5.00
15.00
57
7
H
8
9
-
-
CST6603*
CST6604*
CGK400
600/574
72
10
6
5.00
19.00
69
7
H
8
9
-
-
* 14 gauge steel