1420 Series Panel Enclosures
Non-Ventilated - NEMA 1
Application
Designed for indoor use to house controls, instruments and components which do not require oil-tight or dust-tight protection.

Standards
UL 508 Type 1 on models marked¹
CSA Type 1
Complies with

NEMA Type 1
IEC 60529, IP20
Construction
Enclosure is formed and spot weld­ed from 14 gauge steel.
Removable 12 gauge inner panel is mounted to the rear of the enclosure on collar studs.
Removable door is attached with slip hinges.
To remove door, a tool is required to remove the #8 screw which captivates hinge.
Door is fastened with a slotted 1/4 turn latch; doors 30" and higher are provided with two latches.
A bonding stud is provided on the door and a grounding stud is provided in the box.

Finish
Enclosure and door are finished in ANSI 61 gray powder coating.
Inner panel is finished in white powder coating.
Accessories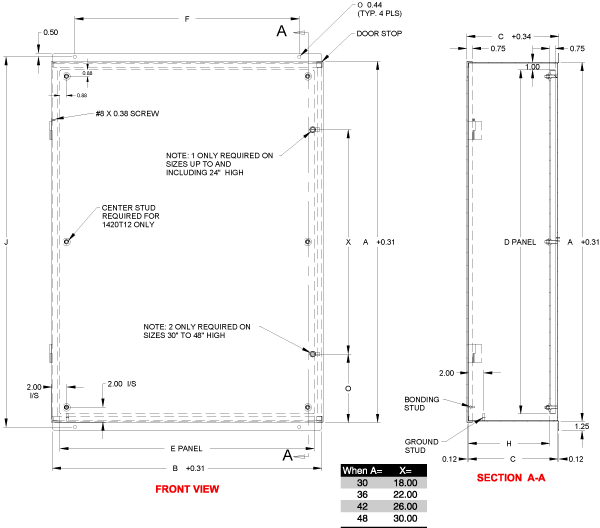 Part No.
Mounting Centers
Panel Size
Ship Wt.
lbs
A
B
C
J
F
D
E
H
O
1420B7¹,²
16
12
7
17.5
9.5
14
10
5.88
-
26
1420C7¹,²
20
16
7
21.5
10.0
18
14
5.88
-
39
1420D7¹,²
20
20
7
21.5
14.0
18
18
5.88
-
48
1420E7¹
24
20
7
25.5
14.0
22
18
5.88
-
53
1420F7¹
30
20
7
31.5
14.0
28
18
5.88
6.16
67
1420G7¹
30
24
7
31.5
18.0
28
22
5.88
6.16
79
1420H7¹
36
24
7
37.5
18.0
34
22
5.88
7.16
90
1420E9¹
24
20
9
25.5
14.0
22
18
7.88
-
60
1420EM9¹
24
24
9
25.5
18.0
22
22
7.88
-
71
1420G9¹
30
24
9
31.5
18.0
28
22
7.88
6.16
84
1420H9¹
36
24
9
37.5
18.0
34
22
7.88
7.16
98
1420P9
36
30
9
37.5
24.0
34
28
7.88
7.16
118
1420Q9¹
42
24
9
43.5
18.0
40
22
7.88
8.16
111
1420G12¹
30
24
12
31.5
18.0
28
22
10.88
6.16
92
1420P12
36
30
12
37.5
24.0
34
28
10.88
7.16
128
1420R12
42
30
12
43.5
24.0
40
28
10.88
8.16
142
1420S12
42
36
12
43.5
30.0
40
34
10.88
8.16
156
1420T12
48
36
12
49.5
30.0
46
34
10.88
9.16
214
1420G16¹
30
24
16
31.5
18.0
28
22
14.88
6.16
105
1420P16
36
30
16
37.5
24.0
34
28
14.88
7.16
144
¹ UL Listed
² Flat Panel