Pedestal and Base

Used for floor mounting for many types of enclosures, consolets or pushbutton boxes
Provides wiring feature through the column.
Meets NEMA Type 12 and 13 requirements.
Columns are formed from 14 gauge steel with 10 gauge flanges.
Column access opening with gasketed cover.
Columns include flange gaskets and a box connector.
Oil resistant gasket.
Bases are formed from 10 gauge steel with additional reinforcing.
Bases include levelling screws.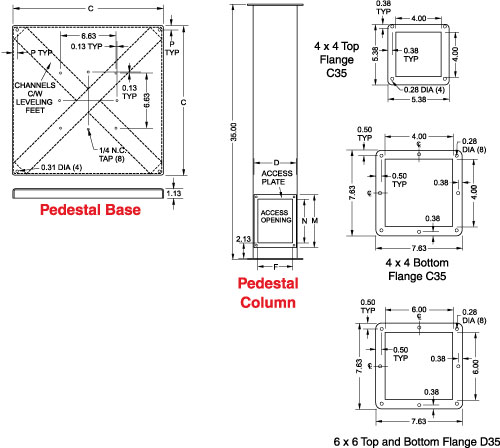 | | | | | | | | |
| --- | --- | --- | --- | --- | --- | --- | --- |
| Part No. | Description | C | D | F | M | N | P |
| 1495C35 | Straight Column | -- | 3.75 | 2.75 | 7.25 | 6 | -- |
| 1495D35 | Straight Column | -- | 5.75 | 4.75 | 7.25 | 6 | -- |
| 1495XK | Pedestal Base | 18 | -- | -- | -- | -- | 0.5 |
| 1495XN | Pedestal Base | 24 | -- | -- | -- | -- | 0.5 |