Drip Shield Kit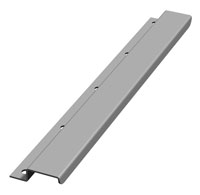 Easily installed on Type 12, 4 and 4X wall-mount enclosures using stainless steel bolts and sealing washers (included).
Designed not to interfere with door clamps.
Protects door from dripping water and settling dust.
DConstructed in 14 gauge mild steel (painted) or 316 stainless steel.
Maintains enclosure rating.
| | | | |
| --- | --- | --- | --- |
| Painted Steel (Gray) Part No. | Painted Steel (Lt. Gray) Part No. | Stainless Steel (Gray) Part No. | Fits Enclosure Width (inches) |
| DK12GY | DK12LG | DK12S16 | 12.00 |
| DK16GY | DK16LG | DK16S16 | 16.00 |
| DK20GY | DK20LG | DK20S16 | 20.00 |
| DK24GY | DK24LG | DK24S16 | 24.00 |
| DK30GY | DK30LG | DK30S16 | 30.00 |
| DK36GY | DK36LG | DK36S16 | 36.00 |
| DK42GY | DK42LG | -- | 42.00 |
| DK48GY | DK48LG | -- | 48.00 |
| DK60GY | DK60LG | -- | 60.00 |
| DK72GY | -- | -- | 72.00 |