Packaged Blowers - Intake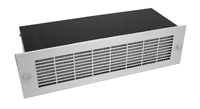 Each contains a quadruplex centrifugal blower powered by a single precision ball-bearing motor.
These widely-used Packaged Twin Blowers deliver air from more than 50% of their 17" width.
Internal neoprene isolation mounts reduce transmission of vibration to the enclosure.
Can be mounted on panel rails or into a cutout in an enclosure.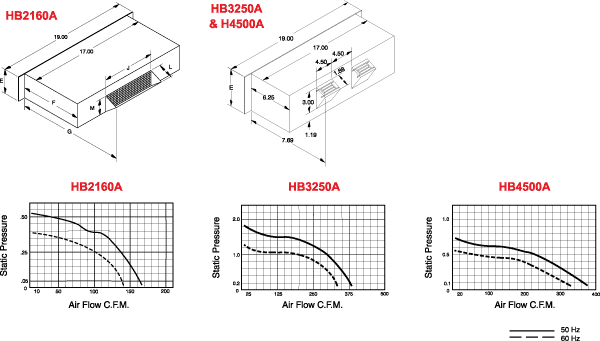 Part Number
Voltage
Frequency
Free Flow Air Delivery (CFM)
RPM Nominal
Panel Height
Mounting Width
Body Width
Overall Depth
Air Delivery Width
Replacement Filter
Ship Wieght
(lbs.)
HB2160A
115 Vac
50 / 60 Hz
145 / 125
2500 / 3000
2U - 3.50
19.00
17.10
6.75
11.75
HB2UFILTER
10
HB3250A
115 Vac
50 / 60 Hz
155 / 200
2750 / 3000
3U - 5.25
19.00
17.25
7.75
4.60
(2x)
HB3UFILTER
15
HB4500AC
115 Vac
50 / 60 Hz
405 / 465
2750 / 3000
4U - 7.00
19.00
17.25
10.00
4.60
(2x)
HB4UFILTER
21