Polyester Modular Enclosures - NEMA 4X
R130 Series Enclosures
Application
Designed for use as instrument enclosures, electrical junction boxes or terminal wiring enclosures.
Provide outstanding protection against dust, oil and pressurized water.
Impervious to atmospheric and marine corrosion.
Standards
Complies with

NEMA 1, 2, 3, 3R, 4, 4X, 5, 12, 13
IEC 60529, IP66
VO Flammability Rating
Construction
Two piece molded fiberglass reinforced polyester construction.
Captive polyfibre cover screws are provided with a standard slot head.
Cover screws fasten into pre-threaded holes.
The threaded cover screw holes also provide single channel access to rear mounting positions.
Recessed neoprene gasket with tongue and groove construction is oil and petroleum resistant.
Threaded stainless steel inserts provide for internal mounting.
Spring loaded stainless steel hinge pins are standard, allowing for quick lid removal.
Finish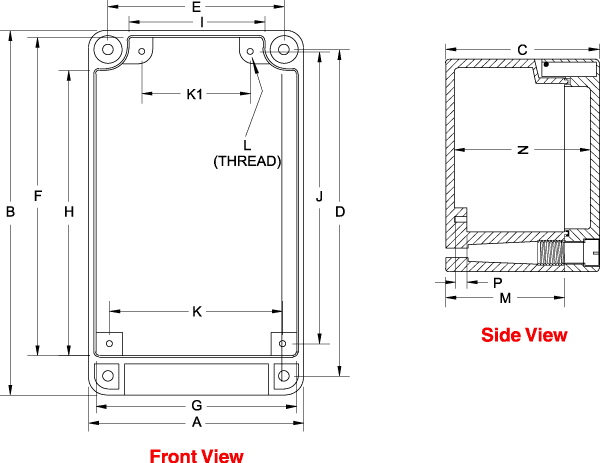 Part No.
Series
Units
Width
Length
Height
A
B
C
D
E
F
G
H
I
J
K
K1
L
M
N
P
R130-120-000
PD-120
inch
mm
4.72
120
5.51
140
3.94
100
4.65
118
3.86
98
4.33
110
4.25
108
3.62
92
2.81
71.5
3.82
97
3.74
95
2.28
58
M6
2.76
70
3.62
92
0.28
7
R130-122-000
PD-122
inch
mm
4.72
120
7.87
200
3.94
100
7.01
178
3.86
98
6.69
170
4.25
108
5.98
152
2.81
71.5
6.18
157
3.74
98
2.28
58
M6
2.76
70
3.62
92
0.28
7
R130-124-000
PD-124
inch
mm
4.72
120
10.24
260
3.94
100
9.37
238
3.86
98
9.06
230
4.25
108
8.35
212
2.81
71.5
8.54
217
3.74
95
2.28
58
M6
2.76
70
3.62
92
0.28
7
R130-160-000
PD-160
inch
mm
6.3
160
7.09
180
3.94
100
6.22
158
5.43
138
5.91
150
5.83
148
5.2
132
4.39
111.5
5.39
137
5.31
135
3.86
98
M6
2.76
70
3.62
92
0.28
7
R130-162-000
PD-162
inch
mm
6.3
160
10.24
260
3.94
100
9.37
238
5.43
138
9.06
230
5.83
148
8.35
212
4.39
111.5
8.54
217
5.31
135
3.86
98
M6
2.76
70
3.62
92
0.28
7
R130-164-000
PD-164
inch
mm
6.3
160
13.39
340
3.94
100
12.52
318
5.43
138
12.2
310
5.83
148
11.5
292
4.39
111.5
11.69
297
5.31
135
3.86
98
M6
2.76
70
3.62
92
0.28
7
R130-200-000
PD-200
inch
mm
7.87
200
8.66
220
4.72
120
7.8
198
7.01
178
7.46
189.5
7.38
187.5
6.73
171
5.94
151
6.97
177
6.89
175
5.43
138
M6
3.54
90
4.41
112
0.28
7
R130-202-000
PD-202
inch
mm
7.87
200
12.6
320
4.72
120
11.73
298
7.01
178
11.4
289.5
7.38
187.5
10.67
271
5.94
151
10.91
277
6.89
175
5.43
138
M6
3.54
90
4.41
112
0.28
7
Part No.
External Feet (Set of 4)
Stainless Steel
Inner Panel (1.5 mm)
Steel, Zinc Plated
Cross Rail (Pair)
(Low Bottom Part)
R130-120-000
R501-000-001
R530-120-000
R531-120-000
R130-122-000
R501-000-001
R530-122-000
R531-120-000
R130-124-000
R501-000-001
R530-124-000
R531-120-000
R130-160-000
R501-000-001
R530-160-000
R531-160-000
R130-162-000
R501-000-001
R530-162-000
R531-160-000
R130-164-000
R501-000-001
R530-164-000
R531-160-000
R130-200-000
R501-000-001
R530-200-000
R531-200-000
R130-202-000
R501-000-001
R530-202-000
R531-200-000