R100 Diecast Aluminum Enclosures - NEMA 4X
Standards
CSA-US Type 4
Complies with
Construction
Aluminum diecast G AI SI 12 / DIN 1725, Leg 230.
Captive stainless steel lid screws are standard.
Neoprene oil and petrol resistant gasket standard.
Temperature range -30°C to +100°C (-22°F to +212°F).
Single-channel Fastening System. Trouble-free turning 90° to 90° with square enclosures by synchronous arrangement of channels.
Finish
Textured polyester powder coat, beige RAL 7032.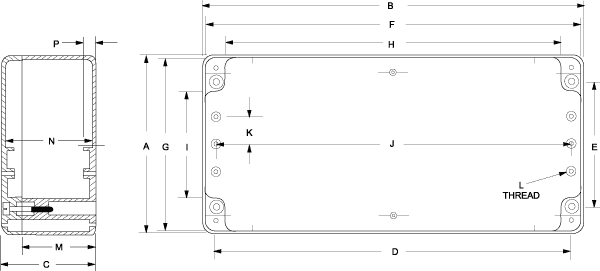 Part No.
Series
Units
(W)
(L)

(H)

A
B
C
D
E
F
G
H
I
J
K
L
M
N
P
R100-060-000
AS-060
inch
2.56
1.97
1.57
1.50
2.09
1.67
2.26
1.28
1.48
1.34
0.96
M4
1.10
1.38
0.35
mm
65
50
40
38.0
53
43
58
33
38.00
34.00
25.00
28
35
9
R100-062-000
AS-062
inch
2.56
2.56
1.57
2.09
2.09
2.26
2.26
1
1.48
1.93
0.55
M4
1.10
1.34
0.35
mm
65
65
40
53
53
58
58
38
38.00
49
14.00
28
34
9
R100-064-000
AS-064
inch
2.56
3.94
1.57
3.5
2.09
3.64
2.26
3
1.48
3.31
0.55
M4
1.10
1.34
0.35
mm
65
100
40
88.0
53
93
58
73
38.00
84.00
14.00
28
34
9
R100-066-000
AS-066
inch
2.56
5.91
1.57
5.4
2.09
5.61
2.26
5
1.48
5.28
0.55
M4
1.10
1.34
0.35
mm
65
150
40
138.0
53
143
58
123
38.00
134.00
14.00
28
34
9
R100-080-000
AS-080
inch
3.15
3.15
2.36
2.6
2.64
2.78
2.78
2
1.93
2.28
0.77
M4
1.57
2.13
0.39
mm
80
80
60
67.0
67
71
71
49
49.00
58.00
20.00
40
54
10
R100-082-000
AS-082
inch
3.15
4.72
2.36
4.2
2.64
4.35
2.78
4
1.93
3.86
0.77
M4
1.57
2.13
0.39
mm
80
120
60
107.0
67
111
71
90
49
98
20
40
54
10
R100-084-000
AS-084
inch
3.15
6.30
2.36
5.8
2.64
5.93
2.78
5
1.93
5.43
0.77
M4
1.57
2.13
0.39
mm
80
160
60
147.0
67
151
71
138
49
138
20
40
54
10
R100-100-000
AS-100
inch
3.94
3.94
3.15
3.4
3.43
3.54
3.54
3
2.74
3.07
1.16
M4
2.09
2.91
0.39
mm
100
100
80
87.0
87
90
90
70
70
78
30
53
74
10
R100-102-000
AS-102
inch
3.94
5.91
3.15
5.4
3.43
5.51
3.54
5
2.74
5.04
1.16
M4
2.09
2.91
0.39
mm
100
150
80
137.0
87
140
90
120
70
128
30
53
74
10
R100-104-000
AS-104
inch
3.94
7.87
3.15
7.4
3.43
7.48
3.54
7
2.74
7.01
1.16
M4
2.09
2.91
0.39
mm
100
200
80
187.0
87
190
90
170
70
178
30
53
74
10
R100-120-000
AS-120
inch
4.72
4.72
3.94
4.0
4.02
4.29
4.29
3
3.15
3.62
1.26
M6
2.64
3.62
0.51
mm
120
120
100
102.0
102
109
109
80
80
92
32
67
92
13
R100-122-000
AS-122
inch
4.72
7.09
3.94
6.4
4.02
6.65
4.29
6
3.15
5.98
1.26
M6
2.64
3.62
0.51
mm
120
180
100
162.0
102
169
109
140
80
152
32
67
92
13
R100-124-000
AS-124
inch
4.72
9.45
3.94
8.7
4.02
9.02
4.29
8
3.15
8.35
1.26
M6
2.64
3.62
0.51
mm
120
240
100
222.0
102
229
109
200
80
212
32
67
92
13
R100-160-000
AS-160
inch
6.30
6.30
3.94
5.6
5.59
5.87
5.87
5
4.76
5.2
2.05
M6
2.64
3.62
0.51
mm
160
160
100
142.0
142
149
149
121
121
132
52
67
92
13
R100-162-000
AS-162
inch
6.30
9.45
3.94
8.7
5.59
9.02
5.87
7.87
4.72
8.39
2.05
M6
2.64
3.62
0.51
mm
160
240
100
222.0
142
229
149
200
120
213
52
67
92
13
R100-164-000
AS-164
inch
6.30
12.60
3.94
11.9
5.59
12.17
5.87
11.02
4.72
11.5
2.05
M6
2.64
3.62
0.51
mm
160
320
100
302.0
142
309
149
280
120
292
52
67
92
13
R100-166-000
AS-166
inch
6.30
18.90
3.94
18.2
5.59
18.43
5.83
17.28
4.69
17.8
2.05
M6
2.64
3.58
0.51
mm
160
480
100
462.0
142
468
148
439
119
452
52
67
91
13
R100-200-000
AS-200
inch
7.87
7.87
4.72
7.1
7.09
7.40
7.40
6.08
6.1
6.61
2.64
M6
3.15
4.41
0.51
mm
200
200
120
180.0
180
188
188
155
155
168
67
80
112
13
R100-202-000
AS-202
inch
7.87
11.81
4.72
11.0
7.09
11.34
7.40
10.02
6.1
10.55
2.64
M6
3.15
4.41
0.51
mm
200
300
120
280.0
180
288
188
255
155
268
67
80
112
13
R100-204-000
AS-204
inch
7.87
15.75
4.72
15.0
7.09
15.28
7.40
13.96
6.1
14.49
2.64
M6
3.15
4.37
0.51
mm
200
400
120
380.0
180
388
188
355
155
368
67
80
111
13
R100-240-000
AS-240
inch
9.45
9.45
4.72
8.7
8.66
8.98
8.98
7.66
7.68
8.19
3.43
M6
3.15
4.41
0.51
mm
240
240
120
220.0
220
228
228
195
195
208
87
80
112
13
R100-242-000
AS-242
inch
9.45
14.17
4.72
13.4
8.66
13.70
8.98
12.38
7.68
12.91
3.43
M6
3.15
4.37
0.51
mm
240
360
120
340.0
220
348
228
315
195
328
87
80
111
13
R100-244-000
AS-244
inch
9.45
18.90
4.72
18.1
8.66
18.43
8.98
17.11
7.68
17.64
3.43
M6
3.15
4.37
0.51
mm
240
480
120
460.0
220
468
228
435
195
448
87
80
111
13
R100-320-000
AS-320
inch
12.60
12.60
4.72
11.8
11.81
12.13
12.13
10.81
10.83
11.34
5
M6
3.15
4.37
0.51
mm
320
320
120
300.0
300
308
308
275
275
288
127
80
111
13
R100-322-000
AS-322
inch
12.60
18.90
4.72
18.1
11.81
18.43
12.13
17.11
10.83
17.64
5
M6
3.15
4.37
0.51
mm
320
480
120
460.0
300
468
308
435
275
448
127
80
111
13
R100-324-000
AS-324
inch
12.60
25.20
4.72
24.4
11.81
24.72
12.13
23.41
10.83
23.94
5
M6
3.15
4.37
0.51
mm
320
640
120
620.0
300
628
308
595
275
608
127
80
111
13