N1A Series Panel Enclosures
Non-Ventilated - NEMA 1
Construction
Enclosure is formed and spot weld­ed from 14 gauge steel.
Removable 12 or 14 gauge inner panel is mounted in the rear of the enclosure on collar studs.
Removable door is mounted on slip hinges.
Door is fastened with a slotted quarter turn latch; doors 30" and higher are provided with two latches.
A bonding stud is provided on the door and a grounding stud is provided in the box.
Mounting holes are provided in the rear of the enclosure.

Finish
Enclosure and door are finished in ANSI 61 gray powder coating.
Inner panel is finished in white powder coating.
Accessories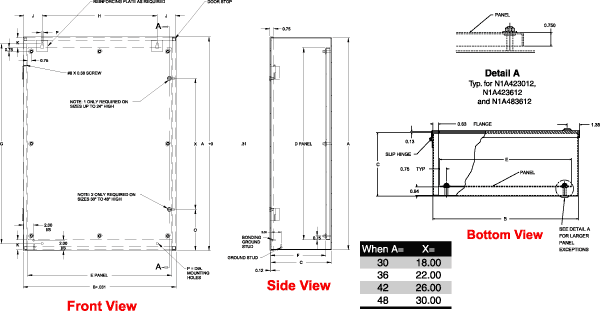 Part No.
Dimensions
Panel Size
Panel
Gauge
No. of
Studs
Mounting Dimensions
Panel Clearance
Ship
Wt.
lbs
A
B
C
D
E
G
H
J
Q
P
F
K
O
N1A16127¹,²
16
12
7
13
10.5
14
4
13.88
7.00
2.50
1.06
0.31
6.04
1.5
-
25
N1A16167¹,²
16
16
7
13
14.5
14
4
13.88
11.00
2.50
1.06
0.31
6.04
1.5
-
30
N1A16207¹,²
16
20
7
13
18.5
14
4
13.88
15.00
2.50
1.06
0.31
6.04
1.5
-
36
N1A20167¹,²
20
16
7
17
14.5
14
4
17.88
11.00
2.50
1.06
0.31
6.04
1.5
-
37
N1A20207¹,²
20
20
7
17
18.5
14
4
17.88
15.00
2.50
1.06
0.31
6.04
1.5
-
43
N1A24167¹,²
24
16
7
21
14.5
14
4
21.88
11.00
2.50
1.06
0.31
6.04
1.5
-
43
N1A24207¹,²
24
20
7
21
18.5
14
4
21.88
15.00
2.50
1.06
0.31
6.04
1.5
-
51
N1A24247¹,²
24
24
7
21
22.5
12
4
21.88
19.00
2.50
1.06
0.31
6.01
1.5
-
67
N1A30207¹,²
30
20
7
26
18.5
12
6
27.50
12.75
3.63
1.25
0.44
6.01
2.0
6.16
67
N1A30247¹,²
30
24
7
26
22.5
12
6
27.50
16.75
3.63
1.25
0.44
6.01
2.0
6.16
80
N1A36247¹,²
36
24
7
32
22.5
12
6
33.50
16.75
3.63
1.25
0.44
6.01
2.0
7.16
94
N1A36307²
36
30
7
32
28.5
12
8
33.50
22.75
3.63
1.25
0.44
6.01
2.0
7.16
114
N1A16129¹,²
16
12
9
13
10.5
14
4
13.88
7.00
2.50
1.06
0.31
8.04
1.5
-
27
N1A20169¹,²
20
16
9
17
14.5
14
4
17.88
11.00
2.50
1.06
0.31
8.04
1.5
-
31
N1A20209¹,²
20
20
9
17
18.5
14
4
17.88
15.00
2.50
1.06
0.31
8.04
1.5
-
47
N1A20249¹,²
20
24
9
17
22.5
14
4
17.88
19.00
2.50
1.06
0.31
8.04
1.5
-
55
N1A24209¹,²
24
20
9
21
18.5
14
4
21.88
15.00
2.50
1.06
0.31
8.04
1.5
-
55
N1A24249¹,²
24
24
9
21
22.5
12
4
21.88
19.00
2.50
1.06
0.31
8.01
1.5
-
125
N1A30209¹,²
30
20
9
26
18.5
12
6
27.50
12.75
3.63
1.25
0.44
8.01
2.0
6.16
72
N1A30249¹,²
30
24
9
26
22.5
12
6
27.50
16.75
3.63
1.25
0.44
8.01
2.0
6.16
85
N1A30309²
30
30
9
26
28.5
12
8
27.50
22.75
3.63
1.25
0.44
8.01
2.0
6.16
102
N1A36249¹,²
36
24
9
32
22.5
12
6
33.50
16.75
3.63
1.25
0.44
8.01
2.0
7.16
107
N1A36309²
36
30
9
32
28.5
12
8
33.50
22.75
3.63
1.25
0.44
8.01
2.0
7.16
120
N1A42249¹,²
42
24
9
38
22.5
12
6
39.50
16.75
3.63
1.25
0.44
8.01
2.0
8.16
111
N1A242012¹,²
24
20
12
21
18.5
14
4
21.88
15.00
2.50
1.06
0.31
11.04
1.5
-
61
N1A242412¹,²
24
24
12
21
22.5
12
4
21.88
19.00
2.50
1.06
0.31
11.01
1.5
-
132
N1A302412¹,²
30
24
12
26
22.5
12
6
27.50
16.75
3.63
1.25
0.44
11.01
2.0
6.16
94
N1A363012²
36
30
12
32
28.5
12
8
33.50
22.75
3.63
1.25
0.44
11.01
2.0
7.16
129
N1A423012
42
30
12
38
28.5
12
8
39.50
22.75
3.63
1.25
0.44
11.01
2.0
8.16
144
N1A423612
42
36
12
38
34.5
12
8
39.50
28.75
3.63
1.25
0.44
11.01
2.0
8.16
169
N1A483612
48
36
12
44
34.5
12
8
45.50
28.75
3.63
1.25
0.44
11.01
2.0
9.16
197
¹ UL 50 listed Type 1
² Flat Panel