Metering Cabinets
NEMA 1
Application
Designed for indoor housing of metering transformers.

Standards
CSA Approved
Complies with
Construction
Formed and spot welded from 14 or 16 gauge steel.
Spot welded construction and formed edges.
Removable inner panel.
Hinged covers.
2 cutouts in top of each cabinet with metering plates included.
Finish
Enclosure and cover are finished in ANSI 61 gray inside and out.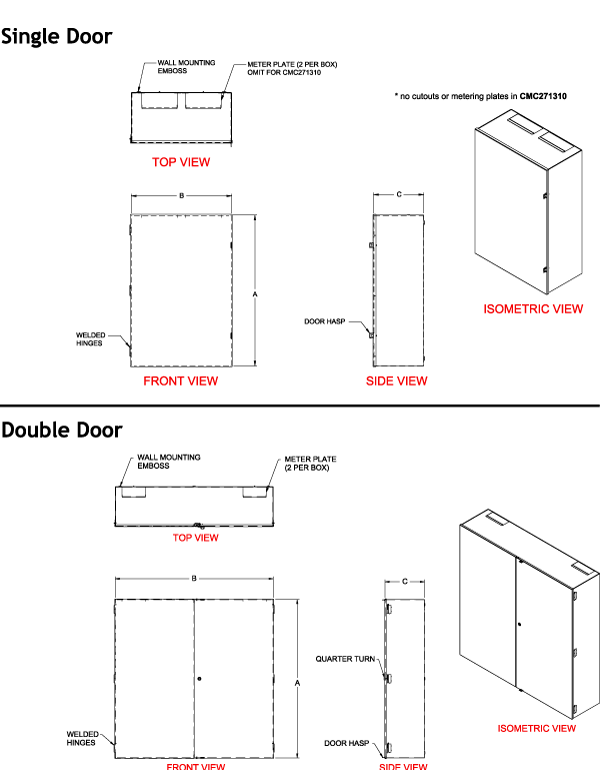 Part No.
Dimensions
Panel
Dimensions
Type
of Door
Latch
Type
Latch
Qty
Metering
Plates
Ship Wt.
lbs.
A
B
C
CMC202010
20
20
10
16 x 16
Single
Hasp
2
2
42
CMC271310
27
13
10
23 x 9
Single
Hasp
2
0
38
CMC302010
30
20
10
26 x 16
Single
Hasp
2
2
69
CMC303010
30
30
10
26 x 26
Double
2 Hasp + Quarter Turn
3
2
92
CMC363612
36
36
12
32 x 32
Double
2 Hasp + Quarter Turn
3
2
131
CMC484812
48
48
12
44 x 44
Double
2 Hasp + Quarter Turn
3
2
210