Side Mounting DTS Series - NEMA 3R, 4, 4X
4000 & 7500 BTU/H - Stainless Steel
Description
Designed for side mounting on any enclosure surface where high capacity system cooling is required.
Closed loop cooling ensures clean enclosure air is recirculated without ever mixing with contaminated ambient air.
Optimum air circulation with maximum clearance distance between warm inlet and cold outlet for reduced hot spot locations.

Standards
UL, cUL, CE
Complies with
Features
R134a refrigerant.
Thermostat control accessible from inside enclosure.
Expansion valve prevents evaporator freeze up while minimizing heavy inrush currents on large BTU/H units.
Built in condensate evaporator.
Continuous air circulation from high capacity fans.
EMI/RFI suppression meets CE.
Self-diagnostics on startup.
Fault indication via LED light.
Provision for door contact allowing power down when enclosure door is opened.
Gasket, mounting kit and template for enclosure cutout and drilling are included.
Condensate drain hose and clamp provided.
Q Mount allows unit to hang in place for easy installation.
Nema 4/4x exterior 304 stainless steel.
Accessories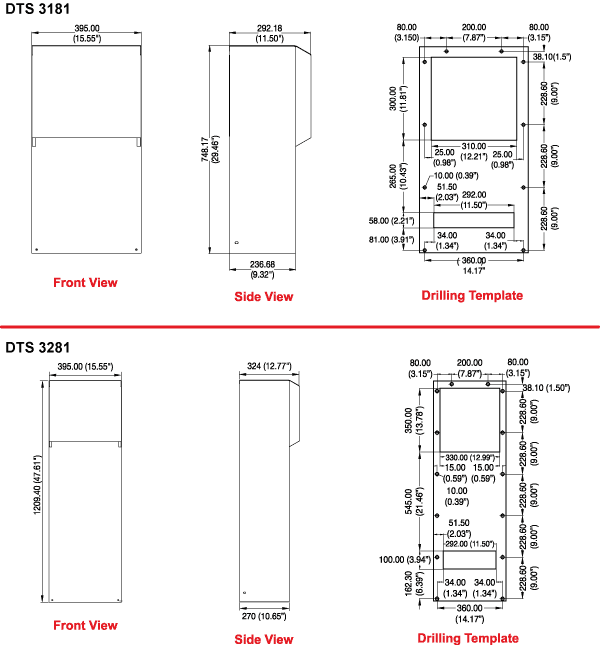 | | |
| --- | --- |
| Part No. | Ship Wt. lbs |
| DTS3181A115N4SS | 107 |
| DTS3181A230N4SS | 107 |
| DTS3281A115N4SS | 144 |
| DTS3281A230N4SS | 144 |
| | | | | |
| --- | --- | --- | --- | --- |
| Electrical Data | DTS3181A115N4SS | DTS3181A230N4SS | DTS3281A115N4SS | DTS3281A230N4SS |
| Rated Voltage: | 115 V 60 Hz | 230 V 50/60 Hz | 115 V 60 Hz | 230 V 50/60 Hz |
| Range of Operation: | 103-127 V | 198-252 V | 103-127 V | 198-252 V |
| Power Consumption: | 950 W | 860 W | 1800 W | 1800 W |
| Running Amps: | 7.2 A | 4 A | 14.6 A | 6.3 A |
| Starting Current: | 17.1 A | 9.3 A | 26.8 A | 16.5 A |
| Line Cord: | Terminal Block | Terminal Block | Terminal Block | Terminal Block |
Refrigeration Data
DTS3181A115N4SS
DTS3181A230N4SS
DTS3281A115N4SS
DTS3281A230N4SS
Rated Capacity :
4,000 BTU/H (1,172 Watts)
7,500 BTU/H (2,197 Watts)
Type of Refrigerant:
R134a
R134a
Regrigerant Charge:
500 g
500 g
Adjustable Thermostat:
Factory setting +95°F (+35°C)
Factory setting +95°F (+35°C)
Max. Ambient Air Temp.:
+125°F (+52°C)
+125°F (+52°C)
Min. Ambient Air Temp.:
+46°F (+8°C)
+46°F (+8°C)
Air Capacity (unrestricted):
Internal Circulation 350 CFM
External Circulation 350 CFM
Internal Circulation 580 CFM
External Circulation 580 CFM
Condensation Discharge:
Condensate Evaporator
Condensate Evaporator
Filter Mat:
150 g/m²
150 g/m²
Db Noise Level:
<70 dB(A)
<73 dB(A)
Unit Weight:
84 lbs (36 kg)
120 lbs (46 kg)
Exterior Case:
304 Stainless Steel
304 Stainless Steel
Finish:
Polish #3
Polish #3
NEMA Rating:
Enclosures IP 56/NEMA 3R/4x
Enclosures IP 56/NEMA 3R/4